Kenworth Trucks Deliver Performance
Throughout its history, Kenworth has worked hard to produce quality, durable and innovative products for customers. Kenworth's success can be traced back to a philosophy established at the beginning in 1923: Build a custom truck and build it to last. Back then, it was said that Kenworth engineers weren't afraid to "get their boots muddy" as they journeyed into the field with customers to understand the demands put on their vehicles. This was a critical aspect of designing a Kenworth — and remains so. Today, Kenworth continues to listen carefully to customer needs, then builds custom trucks that will meet those needs. That's why they call them "The World's Best."
GreatWest Kenworth trucks come almost any way you want it. Spec it lean for payload-hungry applications – select from a multitude of weight-saving options.
Your design choices encompass the latest technologies and a spectrum of proven heavy-duty components from GCWs to 330,000 pounds. The highest horsepower engines in their class. Radiators sized from 1,180 to 1,780 square inches. Front axles up to 22,000 pounds. Twin steer front axles to 37,500 pounds.
Options from front drive axles, pusher axles, and tags as well as single, tandem, and tridem drives. With every transmission option possible including auxiliaries. Rear and front engine PTOs, dual power steering, center front tow hitch, as well a wide range of steel frame selections are just some of the other great options.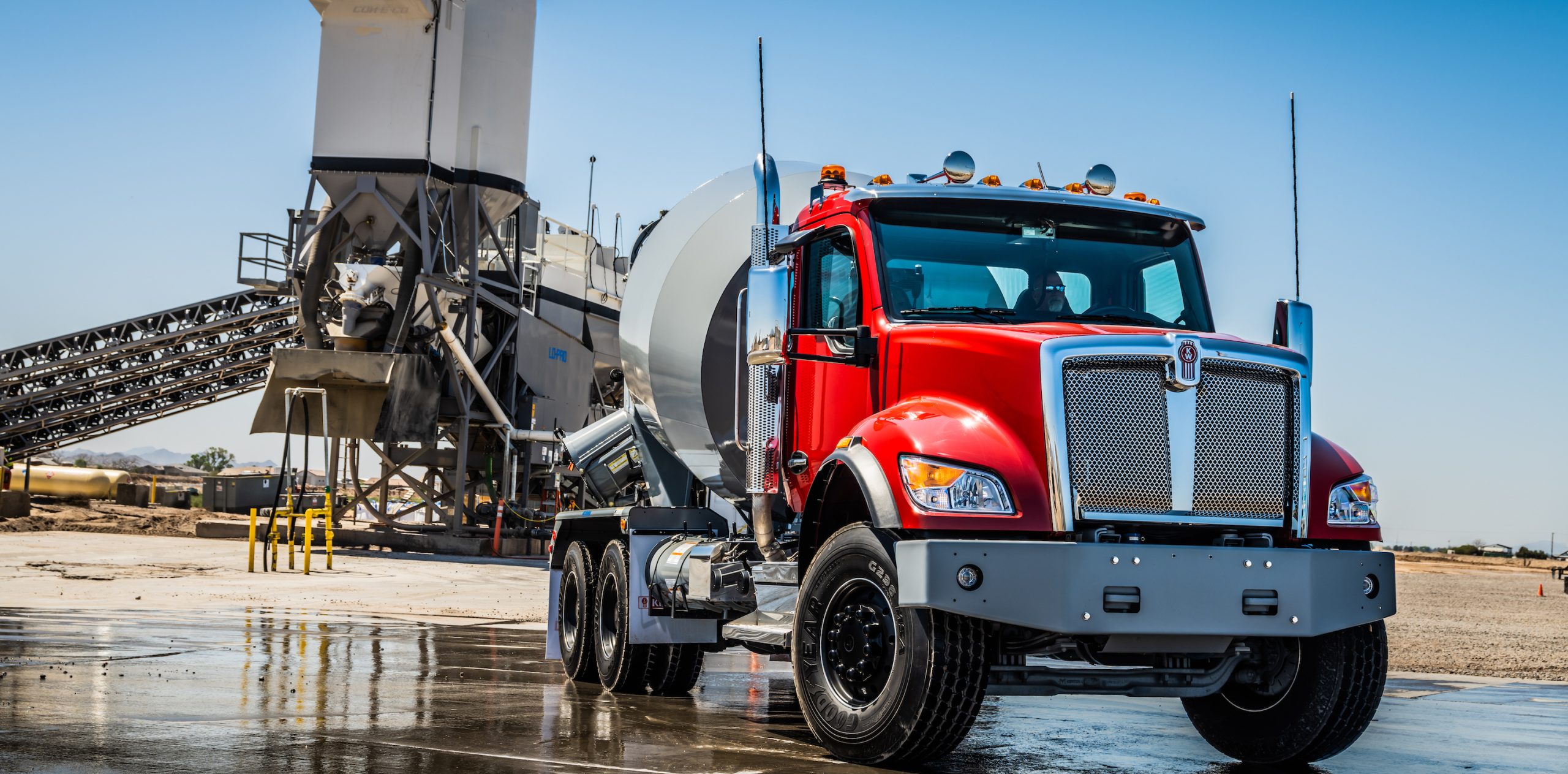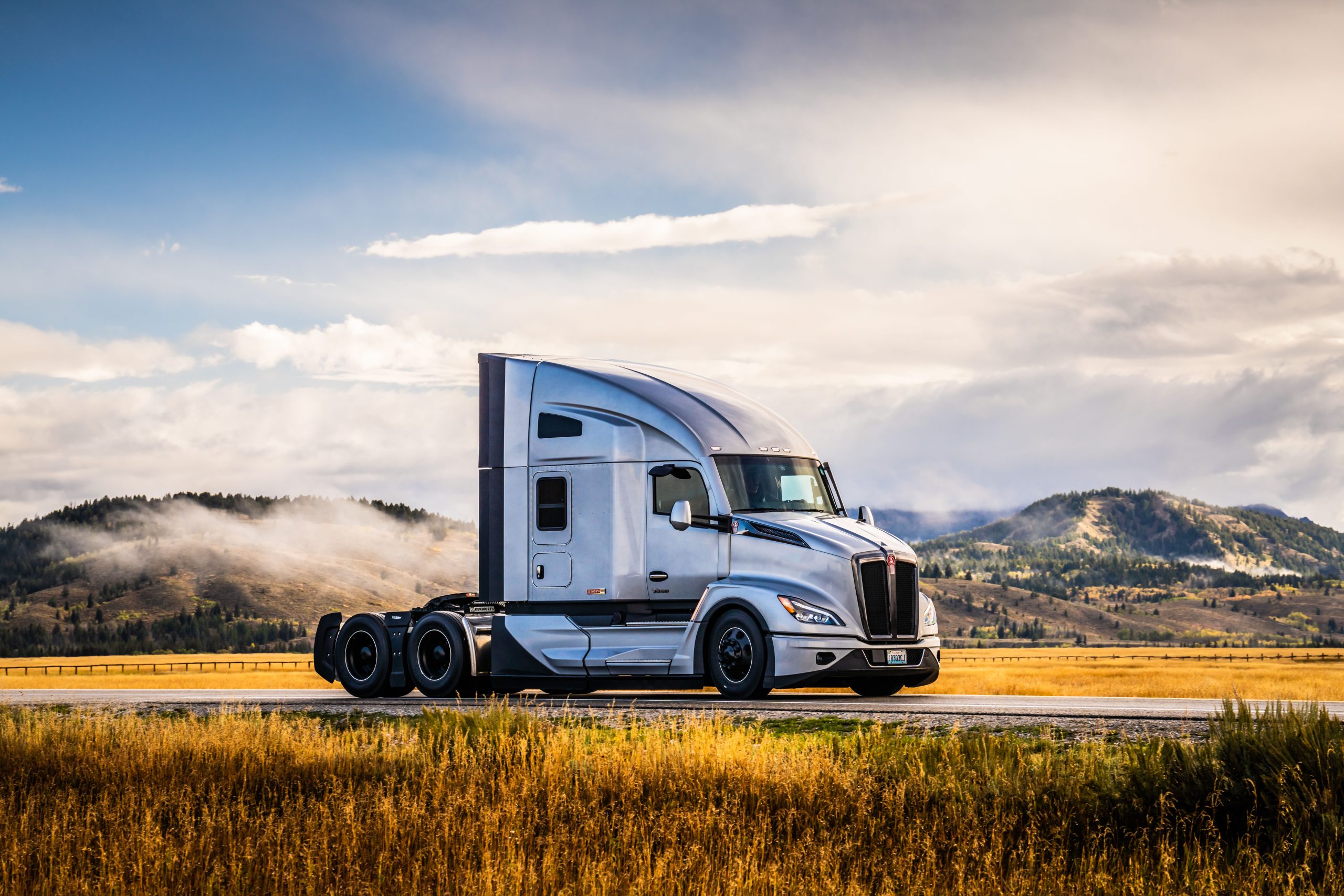 Tip the hood to see what we mean, the engine sits high in the frame and totally ahead of the cab for complete access. You can check fluid levels, change fuel, and oil and water filters while standing on the ground – not on a tire.
The heater/air conditioner motor, electrical master connectors, windshield wiper motor, and washer reservoir are all on the firewall for easier repair. Even the electrical system – a maintenance headache for most operators – has been designed for durability and streamlined troubleshooting.
It's easy to understand why so many professionals would prefer to turn the key on a Kenworth than any other truck.
Deep luxurious machine-stitched Diamond-and-Button upholstery surrounds you with a rich-looking interior of unsurpassed comfort. Fully adjustable Air Cushion Premium Plus seats have been orthopedically contoured for lateral and lumbar support.
The stat-of-the-art dash features multiplexed electronics instrumentation, all the gauge options you want, and large easy-to-reach switches and controls.
TruckTech+ is a software update system that helps you keep your trucks running with the latest engine software. This will help you maximize your Kenworth's performance and uptime.
Remote Diagnotics
Factory installed hardware

PACCAR solutions portal access

Fault code notifications sent to your three closest Kenworth dealers
On-The-Air
Over the air updates for engine & after treatment

Monitors vehicle software
Service Management
Service management portal access

Utilizes truck data to proactively resolve ongoing issues. 

Real time communication of your vehicle repair status
Every new Class 8 Kenworth unit comes with a 2-year subscription to TruckTech+ 

Also available on all class 5,6, and 7 Kenworth units.
Must be used with a MY2017 or newer MX engine and have a TruckTech+ data subscription on the trucks you wish to update.
Jevan Koonar
Sales Manager
Vaughn Finnson
Calgary Sales Representative
Kevin Pick
Calgary Sales Representative
Corey Prediger
Calgary Sales Representative
Jake Tucker
Calgary Sales Representative
Warren Christie
Calgary Sales Representative
Rob Konynenbelt
Lethbridge | Medicine Hat | Redcliff Sales Representative
Tim Langevin
Red Deer Sales Representative
Jim Aubin
Red Deer Sales Representative
George Driedger
Grande Prairie | Clairmont Sales Representative
Sheldon Wozniak
Grande Prairie | Clairmont Sales Representative
Grande Prairie | Clairmont, AB
7202 98th Street
Clairmont, AB T8X 5B1
Fox Creek TRP Store, AB
#207 -1A Avenue
Fox Creek, AB T0H 1P0
Red Deer, AB
6739 67th Ave.
Red Deer, AB T4P 1K3
Balzac, AB
292217 Prime Avenue
Balzac, AB T4B 2T3
Calgary, AB
5909 6 St. SE
Calgary, AB T2H 1L8
Medicine Hat | Redcliff, AB
1901 Broadway Ave. E.
Redcliff, AB T0J 2P0
Lethbridge, AB
3995 2nd Ave N.
Lethbridge, AB T1H 0C8
Get in Touch with GreatWest Kenworth!